Article by Jae-Ha Kim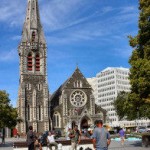 Photos by Denton Morris
(Chicago Sun-Times)
WELLINGTON, New Zealand — For decades, the joke around Wellington was that Americans only knew of New Zealand as "that place by Australia." But thanks to "The Lord of the Rings" trilogy, which was filmed in Wellington–New Zealand's capital–the country is stepping out of Australia's shadow.
Chicagoans should feel right at home in Wellington, which is situated at the southern tip of the country's North Island. The city has a reputation for being one of the windiest cities in the world. Not that a little wind would bother the hearty natives. At times, it seemed that all 4 million of them had roles as extras in the films.
Because Wellington isn't Hollywood–thank goodness–or even Vancouver, it's a big deal when a film company plants its roots for a couple years and shoots a trio of Oscar-worthy epic films. Even the Starbucks that dot the city got into the act. One placard outside the ubiquitous coffee chain depicted a drawing of actor Elijah Wood, who portrays lead hobbit Frodo, and stated, "Don't be shire . Come in and claim a Frappuccino … Elijah Would. Caution: Frappuccinos are extremely Hobbit forming."
Cute.
"Everyone is pretty respectful of the actors," says Wellington resident Jeanette Maris, 26. "We're not a country that's that impressed by fame. But it is a lot of fun having all this here. There was a time when my friends and I were running into a couple of [the cast members] almost every weekend at some restaurant or club.
"Wellington's not that big. You don't have to look that hard to find them."
John Forde, who served as E! Online's Wellington correspondent during the filming of the trilogy, remembers seeing various cast members at many of the city's hottest spots. He even accompanied Sir Ian McKellen (who portrays Gandalf the wizard) to a bar that wasn't quite what either expected.
"I took Sir Ian to Wellington's one-and-only gay bar one night only to discover it was Drag King Night," Forde says. "The place was packed floor to ceiling with lesbians. I remember standing at the entrance thinking, 'I'm here with one of the most famous gay men in the world, and it's bloody lesbian night!' There was even a lesbian performance artist who did a 'Flashdance' strip routine, complete with gas welder and boiler suit. He had a fabulous time, though."
Unfortunately, that infamous bar–Bojangles–has since closed.
Though principal filming has long been completed, director Peter Jackson–a native Kiwi and self-proclaimed perfectionist–rounded up the actors last summer to return to Wellington to do re-shoots for "The Lord of the Rings: The Two Towers," which opens Dec. 28. He'll most likely do the same thing next year for the final chapter, "The Lord of the Rings: The Return of the King," which is scheduled to be released Christmas 2003.
So you could wait until then in the hope of running into your favorite hobbit or elf. Or, you could go now and see for yourself where Viggo Mortensen (Aragorn) ate fresh oysters or where Liv Tyler (Arwen) shopped for her latest duds.
Note: The seasons in New Zealand are in reverse to those of the Northern Hemisphere, so if you're planning on traveling before February, pack light. It's summer here now.
New Zealand Facts:
Capital:   Wellington
Age of Independent New Zealand:   54 years
Age of oldest working brewery:   125 years
Age of New Zealand Rugby Football Union:   109 years
Ratio of sheep to people at lambing time:   35 to 1
Drinking age:   18
Summer:   December through February
Winter:   June to August
©  JAE-HA KIM and DENTON MORRIS