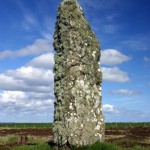 Article by Jae-Ha Kim
Photos by Denton Morris
(New York Post)
Refer to any of the 19,000 inhabitants of the Orkney Islands as a Scot, and he or she will politely inform you they are not Scots. They're Orcadians.
They may live just a few miles north of mainland Scotland, but these island dwellers are an entity unto themselves.
Yes, they eat haggis and talk with accents as thick as the blood used in black pudding. But unlike residents of cosmopolitan Edinburgh and nouveau-chic Glasgow, Orcadians don't revel in trendy nightlife or upscale boutiques catering to the rich and bored.
Instead, they welcome visitors with a big hearty " 'ello!" and a handshake.
Once the land of Vikings, the Scandinavian influence is still prevalent here. In the town of Stromness, an old, traditional, stone-built port on the principal island of Mainland,
Scandinavian greetings – not unlike today's "Sven was here" -are carved into the walls of ancient tombs.
Orkney consists of some 70 beautiful, windswept islands, only 16 of which are inhabited. Most of the locals live in Kirkwall and Stromness on Mainland, and they will be the first to admit there isn't much of a nightlife.
There are, however, some excellent places to eat. In Kirkwall is the Royal Hotel, which has fine lamb and pot-pies (Victoria Street).
If you're itching for gourmet fare, take a 25-minute ferry from Kirkwall to the amazing, 150-year-old Bal-four Castle on Shapinsay Island. A great place to unleash your inner royalty, you can eat dinner here even if you choose not to stay overnight (no address; you can't miss it).
After dinner at the castle, take a short walk down to the Gatehouse pub, which once served as the actual gatehouse. You're likely to spot members of the local soccer team as well as an old chap named Andrew, who just might buy you a pint.
One of the most amazing sights in the Orkneys are the massive standing stones, dotting mostly the fields of Mainland. While Stonehenge may be more famous, the Orkneys also have bragging rights, thanks in part to Mainland's impressive Standing Stones of Stenness, which loom 19-feet high.
Off you go: Fly from Glasgow or Edinburgh to the Orkney Islands via Logan Air (loganair.co.uk). Stay at Shapinsay's Balfour Castle, (from $175 per person; balfourcastle.co.uk).
For more modest accommodations, try the Mill of Eyrland near Stromness (doubles from $60; bedandbreakfast-directory.co.uk). For more info, visit visitscotland.com and toscotland.com.
©  Jae-Ha Kim and Denton Morris