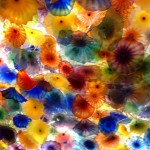 Article by Jae-Ha Kim
Photos by Denton Morris
(Chicago Sun-Times)
LAS VEGAS — I've never been one of those people enamored of Las Vegas. I'd been here a couple times in the past for business, stayed in crappy hotels and had virtually no time to do anything but work.
So I'm the last person you'd think would actually plan a vacation to Vegas. But when my fiance's birthday rolled around this summer, it was a no-brainer where I would take him–Vegas, baby!
Denton has enjoyed coming to Vegas with his family in the past. And in recent years, he and his friends have made annual pilgrimages to Sin City for a boys' weekend out.
Our trip to Vegas came at a good time. The city has given up on the ridiculous idea of promoting itself as a family destination. A good thing, too, since you can't walk a block without being inundated with pamphlets of the nudie kind.
But I digress.
Everyone needs a little hedonism in their lives and Vegas provides the perfect dose of fantasy to get you through the rest of the year. For me, this means lying at the pool soaking up rays, eating as much gelato as possible and browsing for baubles at Tiffany & Co. Bling bling.
For Denton, Vegas represents the perfect trifecta of fun–gambling, booze and machine guns. Bang bang. (More on this later.)
We started our trip at the gorgeous Bellagio Hotel. It's expensive, but doable for a weekend outing. Though the rooms aren't up to the standards of New York's Mark or any Four Seasons Hotel, the gorgeous lobby is nothing short of spectacular. Be sure to look overhead when you enter the hotel and check out the "Fiori di Como." Dale Chihuly's ethereal creation includes 2,000 hand-blown glass flowers of every color you can imagine. If he could make this into a dress, I'd snap it up in a heartbeat.
It wouldn't be difficult to go the entire weekend without ever leaving the Bellagio. The compound is simply fabulous. There are misting stations near the outside bars to keep you relatively cool. The pools are relaxing and provide a wonderful opportunity to people-watch. And there are enough good restaurants to keep you well-fed. We particularly enjoyed the Sunday brunch that included delicacies of every kind.
Though I am a way-low roller, preferring the 5-cent slot machines to the poker tables, I got to mix it up with the big boys at the Bellagio casino. More so than any other casino in Vegas, the patrons here at least make an attempt to dress up a bit before heading to the casino. Before I ran to my favorite 5-cent slot machine, Denton persuaded me to watch him play craps.
We befriended a chatty, rich Texan who thought I should play, even though I knew nothing about gambling, craps or high-stakes anything. He gave me about $100 in chips and told me to gamble my little heart out. I did OK, too. But, polite Midwesterner that I am, I gave him all the money back at the end of evening. Sniffle. For me, winning was less important than getting to play. But I can honestly say I would never let a pair of dice determine the destiny of any of my own hard-earned money.
Not everything is expensive at the Bellagio, though. It has the best freebie in town: the Dancing Waters. OK, technically, that's not what it's called. But the hotel's outdoor fountain show is amazing. And the water moves so much in sync to the music you'd think a boy band choreographer had his hand in this production.
For Denton and his guy friends, the sports books are Vegas' raison d'etre. They can sit there for hours, getting free drinks as they place bets on horses and watch their favorite football teams score. Their preferred choice is Bally's and, if I'm to believe them, this is where they'll be when they bring him to Vegas for his bachelor party. Uh-huh. Right.
And I'd be remiss if I left out a favorite stomping ground for the lads: the Gun Store. Sure, some people would rather go check out the Liberace Museum or eat a prime rib dinner at the Barbary Coast, but my guy likes to get off a few rounds here first. He has his choice of full automatic machine guns, but he's partial to the showy gangster-era tommy guns.
Me? I preferred window shopping at the Tiffany boutique in the Bellagio. I was a little put off when the sales clerk pooh-poohed my taste in wedding bands–I was admiring the platinum, white gold and gold rings and she assured me it was declasse to purchase anything other than platinum. But I will admit it was fun watching the young man next to me sweat it out as he handed over $25,000 for a ring. I wanted to say, "Dude–you could've gotten that same ring on Jewelers Row in Chicago for half that cost," but hey, I have a heart.
When all was said and done, we had a lovely time in Vegas. Would I want to live through that 105-degree "dry heat" again? Not really. But let's face it, we were only in the sweltering outdoors for a few minutes.
Because in Vegas, baby, you can go out while still staying in.
Plan your own vacation surprise
Pulling off a surprise vacation to Vegas (or anywhere) isn't easy. But it can be done. The key is to plan early, enlist the aid of co-conspirators–er, friends–and keep your mouth clamped shut.
Everyone knows it's hard for me to keep a secret, so my pals were a little amazed that I managed this surprise without spilling the beans. I've tried to answer the most frequently asked questions by doing an interview with, well, myself.
Here's how my brain works:
Q. What was the plan?
A. I wanted to do something really special and fun to celebrate Denton's birthday. I thought about arranging a trip to Scotland, where some of his ancestors are from. Checking my bank account made it clear I couldn't afford a summer trip for two to Europe. But Las Vegas was highly doable.
Q. How'd you do it?
A. First, I contacted his best friend Marty, with whom he works. Marty, who can keep a secret better than anyone, casually mentioned to Denton that they should take a bike trip sometime. This was his way of finding out how many vacation days Denton had free. Next, Marty checked with Denton's boss to make sure he could get a few days off. After his boss OK'd the vacation days, Marty reported back to me and I purchased the airfare.
Q. Were you nervous buying his plane ticket without getting his input?
A. Absolutely. I don't like to buy anything unless I have the option of exchanging it. I couldn't do that with these tickets. I worried that work emergencies might prevent us from going, but I bit the bullet and proceeded with caution.
Q. Was there ever a question he might not go?
A. Actually, yes. Just days before I was going to surprise him with his present, he mentioned wanting to take a road trip to visit his father the very weekend we were supposed to be in Las Vegas. I mumbled something about not having enough vacation time and suggested we go later. He bought it. Whew!
Q. Was he really surprised?
A: Yup. It's a well-known fact I can't keep a secret from him. I bought him a rugby jersey during a solo vacation once and managed to keep it quiet for a few hours before blabbing about it in a phone conversation. But this time I did it. On his birthday, I gave him two wrapped boxes. The first contained a huge clue–Hunter S. Thompson's classic, Fear and Loathing in Las Vegas. The second was filled with tissue paper and a shiny envelope containing his first-class ticket. Later, he told me he suspected something was up when he saw the book–but he wasn't positive what I had up my sleeve until he saw the plane ticket.
Q. Was all the subterfuge worth it?
A. You bet! We had a wonderful time. We both had been to Vegas separately, and had taken other trips together. But we had never been to Vegas together. It was fun seeing the city through each other's eyes. He had no idea I knew where there were so many 5-cent slot machines. And I took advantage of his knowledge to eat at the city's best restaurants. Though he swears otherwise, I'm convinced my surprise spurred him to propose. He asked me to marry him the day after I gave him his gift. When we return to Vegas, we'll go as husband and wife.
© Jae-Ha Kim and Denton Morris