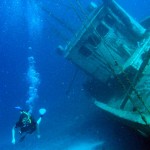 Article by Jae-Ha Kim
Photos by Denton Morris
(Chicago Sun-Times)
KRALENDIJK, Bonaire — Tom Cruise took Penelope Cruz to Bonaire around Christmas. Bill Gates and his wife also vacationed here. Ditto for Gene Hackman and Kathleen Turner (who traveled separately, natch).

What's all this star power doing on an island you've probably never heard of?

The answer is simple. Bonaire is gorgeous, tranquil and about as close to paradise as most of us will ever get. It's the anti-Cancun. Whereas the Mexican city is full of rambunctious college kids on spring break, Bonaire is less crowded and, well, less American. And let's face it — when you're vacationing in another country, foreign is a good thing.

Granted, Bonaire is the least well-known of the ABC islands –Aruba and Curacao make up the remainder of the alphabet triangle — but it's a diver's paradise and a vacationer's dream.
One huge draw to the island is it's considered by many serious athletes to be the perfect place to scuba dive. Novices may begin from the shore and explore the wreck of the HMS Express and the beautiful walls of coral. Or they may take a boat to a location of their choice and dive from there.

The waters are full of beautiful reef fish, including many varieties of angels, drum, frog fish and sea horses, with the occasional large schools of tarpon. You're also likely to spot a few sea turtles. For those of you who equate eels with those tasty unagi rolls at your favorite sushi restaurant, brace yourself for what they look like up close and personal.

The water temperature rarely deviates from 80 Fahrenheit. As for the visibility, it's about as good as the Caribbean gets. Most dive sites are on the leeward side–away from the wind — of the island so the surf is relatively calm.

Diving doesn't get any easier, unless you plan on diving at your local swimming pool, which is one reason why celebrities like to test their scuba skills here.
The natives wouldn't spill the beans on where Cruise and Cruz spent their nights during their vacation here, but they did let it slip that Kathleen Turner's hotel of choice is the Harbour Village (www.harbour village.com), because it has an on-site dive shop and certified instructors.

Don't let the dive-intensive image deter you from visiting the island. Snorkeling and swimming are leisurely options. And if windsurfing is up your alley, you're in the right place. Bonaire was the site of the 2002 Professional Windsurfer Association freestyle finals at Lac Bay.

As for the food in Bonaire, you can't go wrong with the seafood. Head into town one night and try the entrees at It Rains Fishes (Kaya Jan N.E. Craane 24; 011-12-717-8780), where the special of the day is always, well, pretty special. It sits right across from the marina, which makes for nice people watching. Note to diners who hate fish: Try the pasta or the ridiculously large slab of ribs that will feed at least two hungry people.
If you're looking for a little nightlife, give City Cafe (Kaya J.N.E. Craane; 011-599-717-8286) a shot. City Cafe is the nightspot for folks looking for a place to hang out and listen to music. And the food is awfully good, too.

And if you have the time, try to take a day trip to Washington-Slagbaai National Park (www.Bo naire Nature.com/washington park/). A former plantation, the park is full of cactus and rugged rocks as well as a few beautiful secluded beaches.

You may not run into Cruise on your hike, but I can almost guarantee you'll spot a colorful flamingo or two resting in the lake.
© Jae-Ha Kim and Denton Morris